We all know the many physical benefits of exercise. Regular workouts can help trim our waistline, improve our sex life, and even add years to our life. But, how many of us exercise to improve our mental wellness?
From easing the symptoms of depression to relieving anxiety and phobias, regular exercise is a powerful medicine for many mental health challenges. It is one of the best ways to ease stress and lift your mood. It helps the brain to produce hormones and neurotransmitters that can generate a positive impact on your state of mind, energy levels, memory and overall sense of well-being [1] ✅ Trusted Source Basso, J. C., & Suzuki, W. A. (2017). The effects of acute exercise on mood, cognition, neurophysiology, and neurochemical pathways: A review. Brain Plasticity, 2(2), 127-152. Open Reference .
What are the psychological benefits of exercise?
Physical activities have many positive impacts on our psychological health and well-being. Many mental health professionals even prescribe regular exercise as a treatment of some mental illnesses [2] ✅ Trusted Source Sharma, A., Madaan, V., & Petty, F. D. (2006). Exercise for mental health. Primary care companion to the Journal of clinical psychiatry, 8(2), 106-106. Open Reference . Other studies have also pointed out that regular exercise can decrease the average mental health burden on individuals [3] ✅ Trusted Source Chekroud, S. R., Gueorguieva, R., Zheutlin, A. B., Paulus, M., Krumholz, H. M., Krystal, J. H., & Chekroud, A. M. (2018). Association between physical exercise and mental health in 1· 2 million individuals in the USA between 2011 and 2015: a cross-sectional study. The Lancet Psychiatry, 5(9), 739-746. Open Reference .
But that's not all. Here are some of the other psychological and emotional benefits of exercise:
Higher confidence and self-esteem
A toned body and healthy glow can make anyone's confidence go sky high. Daily work-outs give you just that. Investing in regular activities for your mind, body, and soul can help you foster a positive sense of self-worth and inner strength [4] ✅ Trusted Source Swift, D. L., Johannsen, N. M., Lavie, C. J., Earnest, C. P., & Church, T. S. (2014). The role of exercise and physical activity in weight loss and maintenance. Progress in cardiovascular diseases, 56(4), 441-447. Open Reference .
More focus and energy
Ever heard joggers talk about 'runner's high'? High-intensity exercises like running can make our body and brain produce hormones like endorphins. These 'feel-good' chemicals of our body can give a natural boost to your mood, memory and energy level [5] ✅ Trusted Source Basso, J. C., & Suzuki, W. A. (2017). The effects of acute exercise on mood, cognition, neurophysiology, and neurochemical pathways: A review. Brain Plasticity, 2(2), 127-152. Open Reference .
Reduces stress levels
Exercise not only promotes endorphin production but also regulates the level of stress hormones like cortisol [6] ✅ Trusted Source Budde, H., Machado, S., Ribeiro, P., & Wegner, M. (2015). The cortisol response to exercise in young adults. Frontiers in behavioral neuroscience, 9, 13. Open Reference . Released into the bloodstream by the adrenal glands, cortisol is secreted in response to physical and emotional challenges. However, too much of it can adversely affect your body and mind [7] ✅ Trusted Source Qin, D. D., Rizak, J., Feng, X. L., Yang, S. C., Lü, L. B., Pan, L., ... & Hu, X. T. (2016). Prolonged secretion of cortisol as a possible mechanism underlying stress and depressive behaviour. Scientific reports, 6, 30187. Open Reference .
More social support
One of the best benefits of physical activities is the social support that it gives. Socializing is necessary for building a strong resilience against mental health issues [8] ✅ Trusted Source Reblin, M., & Uchino, B. N. (2008). Social and emotional support and its implication for health. Current opinion in psychiatry, 21(2), 201. Open Reference . Instead of resorting to alcohol, drugs, or other negative behaviors, it is always better to go out there and make some friends.
What are the effects of exercise on mental illnesses?
Engaging in workouts can ward off mental health issues long before they even start. But for those who are already under treatment, researches point out that exercise can improve the symptoms of various existing mental illnesses [9] ✅ Trusted Source Mazyarkin, Z., Peleg, T., Golani, I., Sharony, L., Kremer, I., & Shamir, A. (2019). Health benefits of a physical exercise program for inpatients with mental health; a pilot study. Journal of psychiatric research, 113, 10-16. Open Reference .
Let's take a look at how physical activities impact various mental illnesses.
Exercise and depression
A 2018 research revealed that a higher level of physical activity led to reduced depressive symptoms in at-risk populations [10] ✅ Trusted Source Schuch, F. B., Vancampfort, D., Firth, J., Rosenbaum, S., Ward, P. B., Silva, E. S., ... & Fleck, M. P. (2018). Physical activity and incident depression: a meta-analysis of prospective cohort studies. American Journal of Psychiatry, 175(7), 631-648. Open Reference . Psychologists are currently suggesting exercise as a tool in the treatment of mild to moderate depression. It is as effective as antidepressant medication- but, with no side effects [11] ✅ Trusted Source Babyak, M., Blumenthal, J. A., Herman, S., Khatri, P., Doraiswamy, M., Moore, K., ... & Krishnan, K. R. (2000). Exercise treatment for major depression: maintenance of therapeutic benefit at 10 months. Psychosomatic medicine, 62(5), 633-638. Open Reference .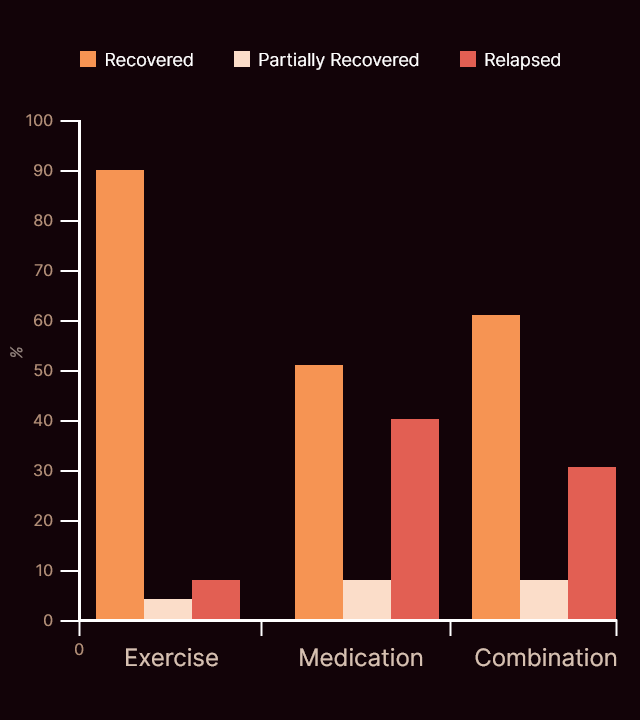 Exercise and PTSD
One of the characteristics of PTSD or trauma is that it traps your nervous system in an immobilized stress response. Focusing on physical sensations in your joints and muscles during exercise can help you free your mind and thoughts. This will give you newer and better perceptions than being stuck in traumatic thoughts.
Exercise and anxiety
Any active physical activity can be considered as an anti-anxiety treatment. They have the capability to reduce tension and stress, elevate physical and mental energy, and release endorphins to enhance your overall calmness. Focusing on your body and how it functions during exercise can help you better understand the body's sensitivity to anxiety and provide necessary precautions to tackle future panic attacks [12] ✅ Trusted Source Aylett, E., Small, N., & Bower, P. (2018). Exercise in the treatment of clinical anxiety in general practice–a systematic review and meta-analysis. BMC health services research, 18(1), 559. Open Reference .
Exercise and ADHD
Outdoor activities like hiking, sailing, rock climbing, and skiing can improve your concentration, memory, and mood. These activities have an immediate effect on your brain by boosting the levels of dopamine, norepinephrine, and serotonin [13] ✅ Trusted Source Archer, T., & Kostrzewa, R. M. (2012). Physical exercise alleviates ADHD symptoms: regional deficits and development trajectory. Neurotoxicity research, 21(2), 195-209. Open Reference . Additionally, studies also show that exercise can generate the same effect as that of ADHD medications like Ritalin and Adderall [14] ✅ Trusted Source Silva, A. P., Prado, S. O., Scardovelli, T. A., Boschi, S. R., Campos, L. C., & Frère, A. F. (2015). Measurement of the effect of physical exercise on the concentration of individuals with ADHD. PLoS One, 10(3). Open Reference .
What are the different types of exercises to improve your mental health?
Hitting the gym is not the only way to improve your mental health. Fortunately, there are many types of exercises that can help you out. The real task is finding the one that you enjoy doing. Here are some types of exercises to help you maintain your mental wellness.
Yoga
Yoga is a low-risk form of exercise for healing your mind and body. Hatha yoga is the commonly practiced form of yoga and it involves meditation, breathing exercises, and physical postures (asanas). According to a study conducted by the Complementary Therapies in Clinical Practice, Yoga can lower heart rate and blood pressure, reduce stress response, depression and anxiety and also increase energy and feelings of well-being [15] ✅ Trusted Source Domingues, R. B. (2018). Modern postural yoga as a mental health promoting tool: a systematic review. Complementary therapies in clinical practice, 31, 248-255. Open Reference .
Tai Chi
Tai Chi is an ancient form of martial arts involving meditation and some slow, graceful body movements. Studies show that this form of meditation can reduce stress and anxiety, lower blood pressure, and improve your mood and self-esteem [16] ✅ Trusted Source Abbott, R., & Lavretsky, H. (2013). Tai Chi and Qigong for the treatment and prevention of mental disorders. The psychiatric clinics of North America, 36(1), 109. Open Reference .
Cardiovascular and Aerobic Exercises
Exercises like running, cycling, swimming or even your household chores can be considered as cardiovascular and aerobic workouts. They can trigger the secretion of endorphins into the body. These physical activities have been shown to reduce depression and anxiety [17] ✅ Trusted Source Lindegård, A., Jonsdottir, I. H., Börjesson, M., Lindwall, M., & Gerber, M. (2015). Changes in mental health in compliers and non-compliers with physical activity recommendations in patients with stress-related exhaustion. BMC psychiatry, 15(1), 272. Open Reference .
How to start an exercise plan for your mind?
Before you start on any exercise program it is essential to first consult your doctor. This will help you figure out the right system of exercise and intensity level for your physical condition. If you suspect mental health issues or you're currently being treated, a qualified mental health professional can help incorporate physical activities into your treatment plan.
Once you get the proper approval and recommendations from your doctor, you can go ahead and find the exercise routine of your choice. The most important thing is to enjoy what you are doing. This will keep you motivated and help you stick to the program.
Listed below are some tips that can help you start and maintain an exercise plan.
Be committed to your exercise plan
Showing commitment to exercise means sparing time for it. It is estimated that at least two to six hours of exercise a week can only be considered effective [18] ✅ Trusted Source Mikkelsen, K., Stojanovska, L., Polenakovic, M., Bosevski, M., & Apostolopoulos, V. (2017). Exercise and mental health. Maturitas, 106, 48-56. Open Reference . Physical activities require time to take effect and show improvements. By investing time in these activities you are giving more priority to your health and mind. So, be patient and consistent.
Never overdo it
People always seem to overdo when it comes to working out and this eventually leads to some unwanted injury. Start your workouts with some simpler routines and move up from there. Always keep in mind that we are doing this for fun and to improve our mood and mental wellness.
Experiment and personalize
Exercise routines need to be personal. Experiment with many routines and find out which suits you the most. Bring changes that will make working out more comfortable and fun for you. This will increase your chances of finding something that you are likely to stick to.
Motivation loss over time
We are human beings and over time our newly found enthusiasm towards working out may fade away. Our mental illness can also affect the motivation to do these physical activities. In times like these, change your routine a little or try out some new exercise options altogether. These changes can even open up more opportunities to socialize while you exercise.
References