Supporting a loved one who is facing challenges with their mental health can be a deeply compassionate and essential role. Mental health struggles affect not only the individual directly experiencing them, but also those who care about and surround them. In this article, we will explore meaningful ways to provide effective and sensitive support to your loved one as they navigate their mental health journey. From recognizing the signs of struggle to offering practical help and creating a nurturing environment, understanding how to be there for someone dealing with mental health concerns is a vital aspect of building resilient and supportive relationships. By acknowledging the importance of empathy, communication, and education, we can play an instrumental role in fostering a safe and understanding space for our loved ones to heal, grow, and thrive.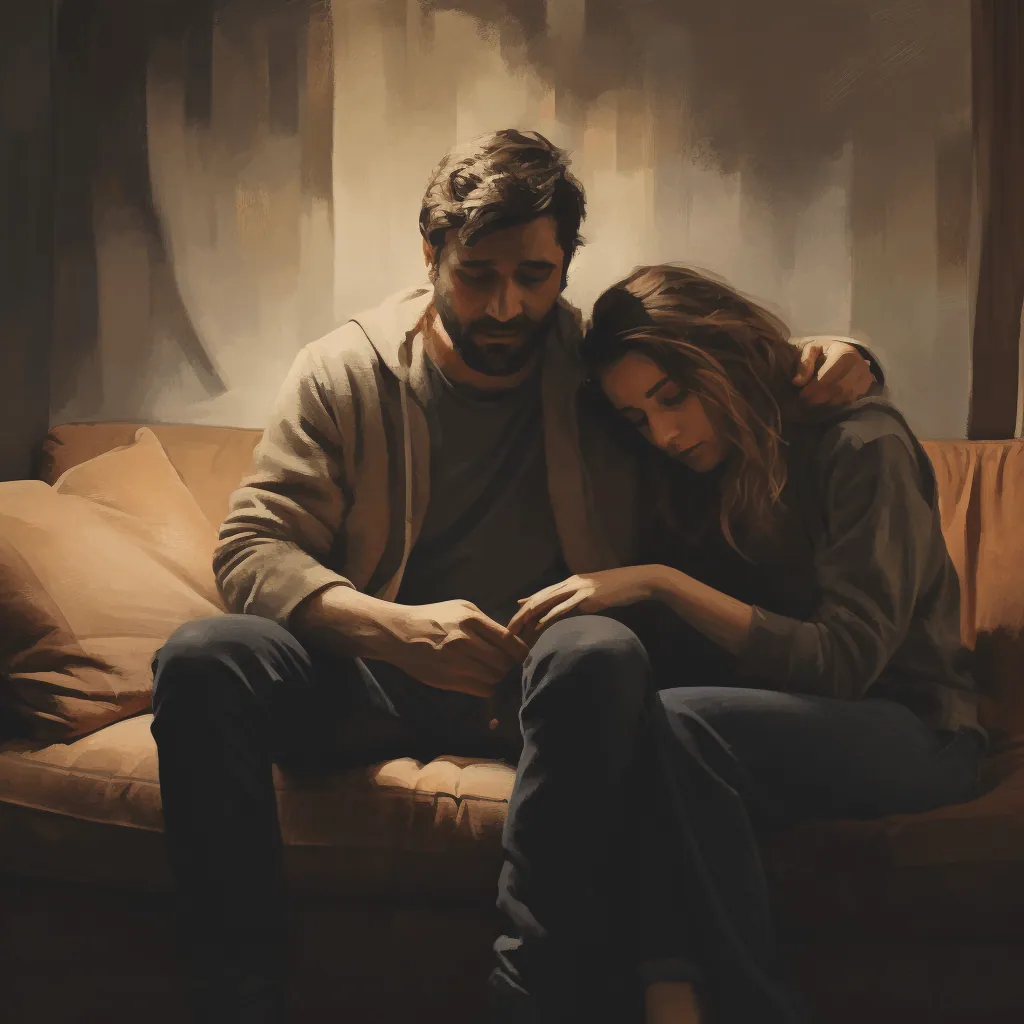 Recognizing the Signs of Struggle
Supporting a loved one through their mental health journey begins with understanding and recognizing the signs of their struggle. By being attentive and empathetic, you can extend a helping hand when it's needed the most.
The Importance of Early Recognition
Early recognition of mental health struggles can make a significant difference in a person's recovery. Research highlights that timely intervention can lead to better outcomes and prevent the escalation of mental health issues.
Subtle Cues and Changes in Behavior
Often, the signs of mental health struggles might not be glaringly obvious. Pay attention to subtle cues like changes in behavior, mood shifts, and withdrawal from social interactions. If your loved one is exhibiting uncharacteristic irritability, sudden mood swings, or unexplained physical symptoms, it could indicate underlying mental health challenges.
Communication Patterns and Isolation
Changes in communication patterns can also signal distress. Look out for persistent expressions of hopelessness or self-criticism. Isolation is another red flag; if your loved one is withdrawing from friends, family, and activities they once enjoyed, it's time to offer your support.
Acknowledging Emotional Well-being
Recognizing the importance of emotional well-being is crucial. If your loved one seems overwhelmed, overly anxious, or excessively stressed, it might be indicative of a deeper struggle. Empathy and a willingness to listen can create an environment where they feel safe to open up.
Recognizing the signs of struggle is the first step in supporting a loved one's mental health. By remaining vigilant, understanding the significance of early intervention, and utilizing open communication, you can play a pivotal role in their journey towards healing.
Initiating Open and Compassionate Conversations
Supporting a loved one through their mental health challenges requires open communication and a compassionate approach. Initiating conversations about their well-being can create a safe space for them to share their struggles.
The Power of Conversation
Research underscores the significance of open conversations in providing emotional support to individuals facing mental health difficulties. Engaging in meaningful dialogues shows that you care and are willing to understand their experiences.
Creating a Safe Environment
When broaching the subject, choose a comfortable and private setting. Begin with a non-judgmental and empathetic approach, assuring your loved one that you are there to listen without any expectations or solutions. This can ease their apprehensions about opening up.
Active Listening and Validation
Practice active listening by focusing entirely on what your loved one is saying. Validate their feelings and experiences without minimizing or dismissing them. Let them know that their emotions are valid and that you are there to support them.
Asking Open-ended Questions
Open-ended questions encourage your loved one to share more about their feelings. Instead of asking closed questions, inquire about their experiences using phrases like "Can you tell me more about how you're feeling?" or "What can I do to support you?"
Embracing Silence and Patience
During the conversation, moments of silence can provide your loved one with the space they need to articulate their thoughts. Be patient and resist the urge to fill the gaps. Silence can be a sign that they are processing their feelings.
Initiating open and compassionate conversations is a cornerstone of supporting a loved one's mental health. By creating a safe environment, actively listening, asking open-ended questions, and embracing moments of silence, you show your unwavering commitment to being there for them during their journey of healing.
Educating Yourself about Mental Health
Supporting a loved one's mental health journey starts with knowledge. Educating yourself about mental health equips you with the understanding needed to provide effective and empathetic support.
The Power of Knowledge
Research highlights the positive impact of mental health education on reducing stigma and fostering a supportive environment. Learning about mental health can break down barriers and enable open conversations.
Understanding Mental Health Basics
Begin by familiarizing yourself with the fundamental concepts of mental health. Learn about common mental health conditions, their symptoms, and possible triggers. This knowledge helps you recognize signs of distress in your loved ones.
Breaking Stigmas and Myths
Misconceptions about mental health perpetuate stigma. By educating yourself, you can challenge these myths and promote understanding. Studies show that dispelling myths can encourage individuals to seek help .
Accessible Resources
Numerous reputable sources offer information on mental health. Online platforms, books, and mental health organizations provide valuable insights into various conditions, treatment options, and strategies for support.
Seeking Professional Advice
Educating yourself doesn't replace professional guidance. Mental health professionals offer tailored advice and expertise. Collaborating with them ensures a comprehensive approach to supporting your loved one.
Educating yourself about mental health is a powerful tool in your arsenal of support. By understanding mental health basics, breaking stigmas, accessing resources, and seeking professional guidance, you become an informed and empathetic ally on your loved one's journey towards well-being.
Creating a Safe and Non-Judgmental Space
Supporting a loved one's mental health journey requires more than words; it demands creating a safe and non-judgmental space where they can express themselves freely. Such an environment paves the way for healing conversations.
The Healing Power of a Safe Space
Research emphasizes the significance of safe spaces in reducing stigma and encouraging individuals to seek help for mental health issues. A supportive atmosphere fosters openness and vulnerability.
Understanding Non-Judgment
To create a safe space, practice non-judgmental listening. Put aside preconceived notions, biases, and the urge to provide immediate solutions. Let your loved one know that their feelings are valid and that you are there to support, not to judge.
Active Listening and Validation
Active listening involves more than just hearing; it's about truly understanding. Reflect back their emotions and thoughts, showing that you're fully engaged in the conversation. Validation helps them feel heard and acknowledged.
Embrace Empathy and Patience
Empathy bridges the gap between understanding and compassion. Put yourself in their shoes, acknowledge their emotions, and offer reassurance. Patience is crucial; some discussions may be difficult, and your loved one might need time to share their thoughts.
Avoid Offering Unsolicited Advice
While your intentions may be sincere, unsolicited advice can undermine the safe space you're creating. Focus on listening rather than instructing. If they seek advice, provide it gently and without pressure.
Creating a safe and non-judgmental space is an invaluable gift you can offer your struggling loved one. By practicing non-judgment, active listening, validation, empathy, and patience, you lay the foundation for open conversations that can lead to healing and growth.
Offering Practical Help and Assistance
Supporting a loved one's mental health journey goes beyond emotional support; it often involves offering practical help and assistance. Your actions can make a tangible difference in their well-being.
The Impact of Practical Assistance
Research underscores the significance of practical assistance in improving the overall quality of life for individuals with mental health challenges. Simple acts of support can alleviate stress and contribute to their recovery.
Identifying Needs and Preferences
Begin by understanding their needs and preferences. Are there daily tasks that feel overwhelming? Are there responsibilities that can be shared? A collaborative approach ensures that your assistance aligns with their requirements.
Assistance with Daily Tasks
Individuals struggling with mental health might find daily tasks challenging. Offering to help with groceries, cooking, or cleaning can reduce their burden and provide a sense of relief.
Accompanying to Appointments
Mental health appointments can be daunting. Offer to accompany your loved one to therapy sessions or medical appointments. Your presence can offer reassurance and emotional support.
Respectful Communication
When offering help, maintain open communication. Respect their autonomy and preferences; some days, they might need more assistance, while on others, they might wish to manage tasks independently.
Practical assistance is a meaningful way to support your loved one's mental health journey. By identifying their needs, offering help with daily tasks, accompanying them to appointments, and practicing respectful communication, you contribute to their well-being and remind them that they are not alone.
Encouraging Professional Support
Supporting a loved one's mental health journey often involves recognizing the importance of professional help. Encouraging them to seek assistance from mental health professionals can be a transformative step towards healing.
The Role of Professional Support
Research underscores the effectiveness of mental health professionals in providing evidence-based interventions. Professional support offers specialized expertise that can lead to lasting improvements in your loved one's well-being.
Recognizing the Need
Gently help your loved one recognize the signs that indicate professional help may be beneficial. If their struggles are affecting their daily life, relationships, or overall functioning, it's time to consider seeking guidance.
Emphasizing Confidentiality and Expertise
Highlight the confidential nature of professional sessions. Assure your loved one that mental health professionals are trained to provide a safe space for sharing without judgment. Their expertise equips them to offer tailored strategies for coping and recovery.
Researching and Referring
Assist your loved one in finding suitable mental health professionals. Research therapists, counselors, or psychiatrists together and provide them with a list of options. Offer to help with scheduling appointments if needed.
Offering Support in the Process
Encourage your loved one to take the first step, but also offer to accompany them to appointments if they're comfortable. Your presence can alleviate anxiety and demonstrate your unwavering support.
Encouraging professional support is a powerful act of love and support. By recognizing the role of mental health professionals, helping your loved one identify the need for assistance, emphasizing confidentiality and expertise, researching and referring, and offering your presence, you pave the way for their journey towards healing and well-being.
Being a Patient and Active Listener
Supporting a loved one's mental health journey requires more than offering solutions; it involves being a patient and active listener. This approach fosters trust, empathy, and a deeper connection.
The Healing Power of Listening
Research highlights the therapeutic value of active listening in promoting emotional well-being. Being present and attentive can alleviate emotional distress and create a sense of validation.
Practicing Patience
When your loved one opens up, practice patience. Allow them to share at their own pace, without interruptions or rushed responses. Patience signals your genuine interest in understanding their experiences.
Focused Attention
During conversations, offer your full attention. Put aside distractions and truly engage with what they're saying. Maintain eye contact and use verbal and nonverbal cues to show that you're fully present.
Non-Judgmental Presence
Create an environment where your loved one feels safe sharing their thoughts without fear of judgment. Assure them that their feelings are valid and that you're there to support them, not to evaluate.
Reflective Responses
After they've shared, offer reflective responses that show you've been actively listening. Summarize their thoughts and emotions to convey that you understand and appreciate their perspective.
Being a patient and active listener is a cornerstone of supporting a loved one's mental health. By practicing patience, offering focused attention, creating a non-judgmental presence, and providing reflective responses, you foster an atmosphere of trust and empathy, paving the way for healing and growth.
Promoting Self-Care and Wellness Together
Supporting a loved one's mental health journey involves not just being there for them, but also promoting self-care and wellness together. By joining forces, you can create a nurturing environment that encourages emotional well-being.
The Power of Shared Self-Care
Research suggests that engaging in self-care practices together can strengthen relationships and contribute to overall psychological well-being. Sharing wellness activities can be a bonding experience that fosters mutual support.
Identifying Self-Care Strategies
Begin by discussing self-care strategies that resonate with both of you. Whether it's practicing mindfulness, engaging in physical activity, or simply spending quality time outdoors, find activities that promote mental and emotional wellness.
Setting Wellness Goals
Collaboratively set wellness goals that you can work towards together. These goals could be related to managing stress, maintaining a healthy routine, or incorporating relaxation techniques into your daily lives.
Creating a Supportive Routine
Integrate self-care practices into your routine. Whether it's cooking healthy meals, taking evening walks, or practicing meditation, incorporating these activities together can strengthen your commitment to wellness.
Celebrating Small Wins
Acknowledge and celebrate each other's efforts. Recognize and celebrate the small victories on your wellness journey. A supportive atmosphere can motivate both of you to continue prioritizing self-care.
Promoting self-care and wellness together is a profound way to support a loved one's mental health. By sharing self-care practices, setting wellness goals, creating a supportive routine, and celebrating achievements, you not only nurture each other's well-being but also reinforce the bond of understanding and care.
Respecting Boundaries and Autonomy
Supporting a loved one's mental health journey entails a delicate balance between offering assistance and respecting their boundaries and autonomy. By acknowledging their need for control, you empower them on their path to healing.
The Significance of Autonomy
Research highlights the importance of autonomy in promoting intrinsic motivation and overall well-being. Respecting your loved one's autonomy can foster a sense of empowerment and ownership over their mental health.
Open and Honest Communication
Initiate a conversation about their preferences and boundaries. By openly discussing how they want to be supported, you ensure that your actions align with their wishes. Listen attentively and assure them that their autonomy matters.
Offering Support without Assumption
Avoid assuming what your loved one needs; instead, ask how you can assist. Respect their decisions, even if they decline help at times. Your willingness to respect their choices reinforces their sense of control.
Being a Source of Empowerment
Encourage them to make decisions related to their well-being. Offer information and options, but ultimately let them choose the path that feels right for them. Empowerment can lead to increased confidence and resilience.
Respecting Privacy and Confidentiality
Respecting boundaries extends to privacy and confidentiality. If they choose to share their struggles, honor their trust by keeping their experiences confidential unless they indicate otherwise.
Respecting boundaries and autonomy is a cornerstone of compassionate support for a loved one's mental health. By practicing open communication, offering assistance without assumption, being a source of empowerment, and respecting their privacy, you create a space where they feel understood, respected, and empowered in their journey towards well-being.
Maintaining a Long-Term Supportive Relationship
Supporting a loved one's mental health isn't a one-time effort; it's an ongoing journey that requires maintaining a long-term supportive relationship. By committing to consistent care, you become a constant pillar of strength.
The Enduring Impact of Support
Research emphasizes the lasting impact of long-term support in reducing distress and promoting psychological well-being. A continuous, unwavering presence can provide your loved one with stability and reassurance.
Understanding the Evolving Nature of Mental Health
Acknowledge that mental health is dynamic, and its challenges can ebb and flow. Be prepared for changes and adapt your support strategies accordingly. Flexibility is key in maintaining a supportive relationship.
Regular Check-Ins and Open Conversations
Regularly check in with your loved one about their well-being. Create a space where they feel comfortable sharing their thoughts and emotions openly. This ongoing dialogue strengthens your connection and ensures that they don't feel alone.
Celebrating Progress and Milestones
Acknowledge and celebrate the progress your loved one makes. Whether it's small steps towards recovery or milestones achieved, your recognition can boost their confidence and motivation.
Self-Care for the Supporter
Remember that your well-being matters too. Engage in self-care practices to ensure you have the emotional energy to sustain a long-term supportive relationship. Seek your own sources of support if needed.
Maintaining a long-term supportive relationship is a commitment that holds immeasurable value. By understanding the evolving nature of mental health, engaging in regular check-ins, celebrating progress, and prioritizing self-care, you become a constant source of encouragement and stability on your loved one's journey to mental well-being.
Frequently Asked Questions
How can I provide support without being overbearing?
Providing support without being overbearing involves finding a balance. Let your loved one take the lead in sharing, and avoid pushing for details they're not comfortable discussing. Respect their boundaries and preferences. Offer practical help like assisting with daily tasks or providing resources, but avoid making decisions for them. Keep communication lines open without insisting on updates. Check in periodically, but allow space for them to reach out when they need.
What can I do to create a safe and supportive environment for my loved one?
Creating a safe and supportive environment involves fostering open communication and understanding. Let them know you're available to talk and that you won't judge their feelings or experiences. Respect their privacy and confidentiality. Educate yourself about mental health to reduce stigma and misconceptions. Avoid making insensitive comments or offering unsolicited advice. Be patient, as progress might be gradual. Offer encouragement for seeking professional help and accompany them if they're comfortable. Ultimately, your consistent presence and genuine concern will contribute to a safe and nurturing space.
How can I help my loved one cope with tough days or relapses?
Coping with tough days or relapses requires empathy and non-judgment. Remind your loved one that setbacks are a natural part of recovery, and they don't define their progress. Encourage them to practice self-care strategies they find helpful. Offer a listening ear without pressure to talk. Remind them of their strengths and past successes. If needed, help them access their support network or professional help. Reiterate that you're there for them, no matter the challenges they face.
What's the role of self-care when supporting a loved one's mental health?
Self-care is crucial when supporting a loved one's mental health. Taking care of your own well-being ensures you have the emotional capacity to offer effective support. Engage in activities that bring you joy and relaxation, and set healthy boundaries to prevent burnout. Reach out to your own support network, whether it's friends, family, or professionals. Remember that you can't pour from an empty cup; prioritizing self-care enables you to provide sustainable support to your loved one.